COLLECTION PACKS
SUPER STRAINS – Collection Packs
Let Super Strains make the choices even easier with our Collection packs. Every collection pack offers you 3 different strains. As you dive into our Collection packs, you'll discover ample THC levels, great yield potential, famous genetics and eye-popping flavors. A unique set of strain combinations that showcases the very best bunker-bustering genetics in our portfolio – all offered in a well-priced bundle. 
shop all collection packs
THE COLLECTION PACKS
Discover some of the world's most famous strains
The cannabis community is already an enormous place and this worldwide shared interest means there are innovative new breeders developing mind-blowing and delectable new strains all the time. We love it, we really do – but it can be a hard place to navigate for consumers. Most times, you don't need a million seeds to choose from. Without more experience it is best to stay with proven and popular favorites. With this in mind, we created our 3-pack collection series.
SUPER STRAINS SEEDS
You have reached the source of some of the most successful strains and genetics on planet earth! The Super Strain Seeds has gained a reputation for producing unique cannabis strains, offering our customers an exclusive portfolio of genetics sure to satisfy any desire. Our continued success over 30 years has bought us support from across the stoner universe, including some high-profile celebrity stoners and collectors. With famous and award winning strains like Amnesia, Enemy of the State, 7th Wave and Next of Kin, you are sure to find the right strain for your collection.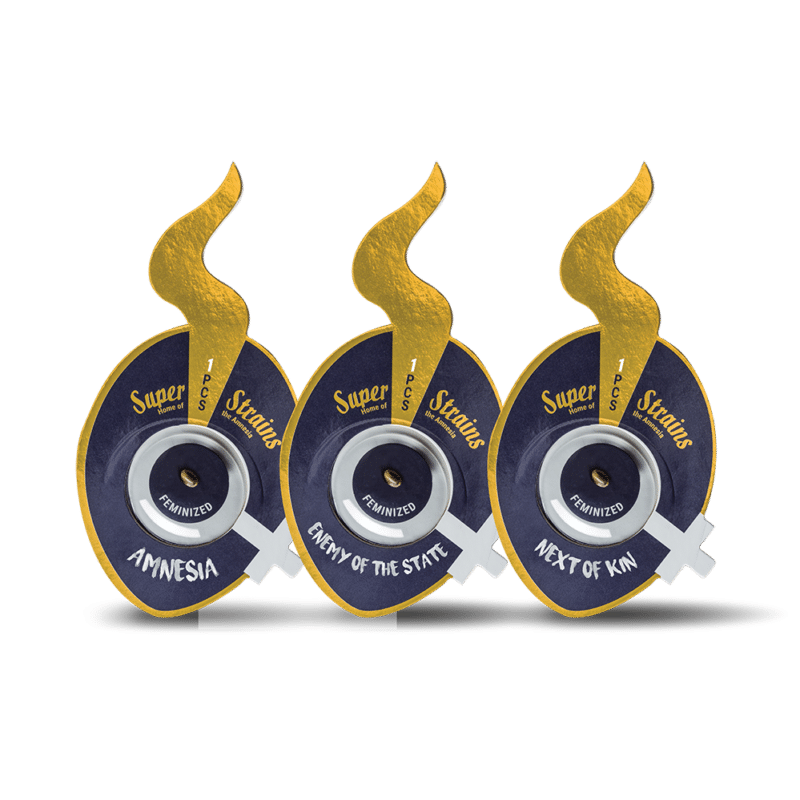 AMNESIA COLLECTION PACK
Are you a fan of the Amnesia strain?
This is truly the holy grail of all collection packs. This Amnesia collection pack is your chance to get acquainted with the whole of the family. This collection pack not only contains a feminized Amnesia seed, it also contains award winning strain 'Enemy of the state' (mother of Amnesia) and 'Next of Kin' (offspring). In short – the answer as to why we can call ourselves 'Home of the Amnesia'.
3-pack €30
Shop now
Receive our latest offers, deals and tips!