Merchandise
Also selling original streetwear and 4:20 gifts
Super Strains is a also a producer and supplier of streetwear, smoking accessories and 4:20 merchandise. Super Strains provides shoppers an evergrowing range of unique lifestyle products which can be found in a growing number of headshop, urban culture stores throughout Europe. Offering exclusive productsand original designs inspired by cannabis culture.
shop all merchandise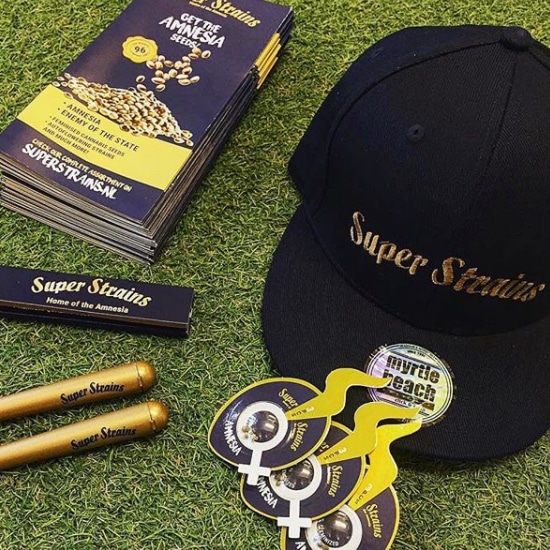 SUPER STRAINS MERCHANDISE
A growing collection of unique and original cannabis culture
Over the last few years, streetwear and the 420 lifestyle has slowly started to infiltrated mainstream markets. What used to be a niche community has blossomed into a category that's even been adopted by global companies and stores. A lifestyle once championed almost exclusively by the skate and hip-hop communities has grown mainstream appeal. The Super Strain's streetwear and 420 lifestyle collection, at its core, focus on basic fashion and smoking accessories – always sold for a fair price.
All our products now available online!
Everything we do revolves around the customer—you are the heart of our company. With the success of our merchandise products in stores and third party retailers, we've opened our 2 online stores for the world to experience. So shop, and explore the world of Super Strains – but don't forget to visit her big sister. @ I love Amnesia!
I Love Amnesia – Merchandise
Representing our world wide claim to fame!
I love Amnesia brings you the very best streetwear, products and smoking accessories for your 420 lifestyle. Featuring our exclusive collection of I amnesia Streetwear and lifestyle accessories complemented by a selection of products representing  cannabis culture in all its beauty. Besides shopping for fashion and streetwear – our customers can also shop for specialty smoking accessories – hand blown glass pipes, luxe rolling papers, one-of-a-kind vintage ashtrays, sterling silver grinders – aswell as a growing collection wellness products, original gifts and art. 
Learn more
Streetwear, the urban style of today with hoodies, T-shirts and basic streetwear. Discover our collection of mix & match essentials! Sign up for exclusive early access to the sale and discover the latest items.
Fashion is not limited to only clothing. Nowadays, fashion accessories are inseparable part of clothing. If you want to look stylish, then adding fashion accessories with your atire is imperative to spice up your look. 
Ever get tired of using the same things over and over.  Why not upgrade one of your favourite hobbies with some smoking accessories. These smoking accessories act as your personal arsenal for any session.
Recieve our latest offers, deals and tips!