SATIVA seeds
SUPER STRAINS – Sativa selection
Sativa cannabis strains are famously known for the head high effect and characteristic energizing and creative effects that boost focus. Medical users have taken advantage of this to use it for treating anxiety, stress, and depression. Other people use it just before setting off to the activities of the day because Sativa's induce a peaceful state and improve creativity and energy levels. Sativa genetics originates in the tropics – Thailand, Jamaica, Mexico
shop all sativa seeds
FEMINIZED SATIVA SEEDS
Here is your chance to meet a real family of legends
Looking to buy cannabis sativa seeds, but not sure on which strains? Many cannabis seed collectors buy sativa seeds from Super Strains because our legacy speaks for itself. Our original amnesia is one of the world's most popular strains famous for its uplifting and energizing effects. The Super Strains sativa collection is a selection of giants that can grow to 3 meter and beyond. Sativa requires a slightly longer time to grow, taking between 10 to 12 weeks of flowering to mature, to ensure a maximum yield.   
SUPER STRAINS SEEDS
Here is your chance to meet a real family of legends! Our most famous strain and still cornerstone of our seed collection; the original Amnesia by Super Strains has been decorated in almost every High Life Cup over the past 25 years. Not only had the Amnesia strain never really left the award podium, she is now often joined by her famous family members. Her mother 'Enemy of the State' is a famous and potent indica in her own right and her daughter 'Next of Kin has even more sativa genes than her famous parent.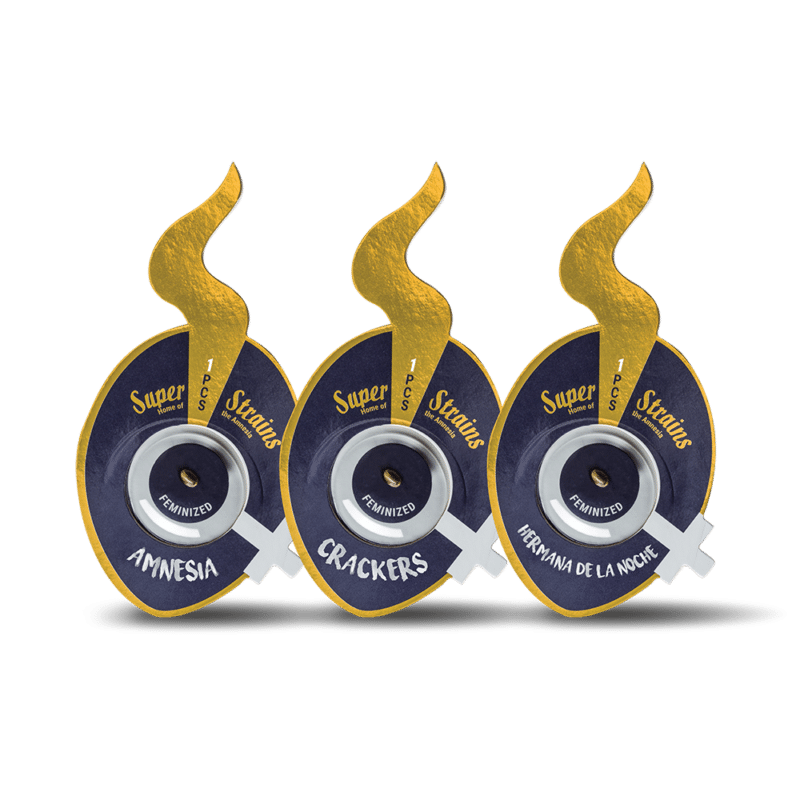 SATIVA COLLECTION PACK
Looking to add some sativa variety to your garden?
If you like your marijuana plants big, the Sativa collection pack will not disappoint. These tall sativa dominant hybrids are also surprisingly easy-to-grow. As long as you provide plenty of space and light, you'll be rewarded with a good blend of flavors. Super Strains sativa collection is star-studded and built-to-impress, so you can rest assured that each harvest will be loaded with tried and tested genetics that produces nothing but results.
3-pack €28,50
Shop now
Receive our latest offers, deals and tips!