INDICA seeds
SUPER STRAINS – Indica selection
Traditionally, indica strains are associated with more of a body high with calming effects that makes you feel relaxed. They're often recommended for people seeking strains to help with pain, insomnia, nausea, or poor appetite. This type of strain is ideal for evening use and for activities that require little to no physical activity. Indica genetics originate from central Asia – India, Tibet, Pakistan, Afghanistan and Nepal.
shop all Indica seeds
FEMINIZED INDICA SEEDS
Fast flowering Indica genetics with famous heritage
Indica-dominant Strains showcase the characteristics of cannabis genetics which descended from Asian landrace cultivars of the Hindu Kush mountains. Indica's are popular as their relaxing and sedative effects due to their higher concentrations of the terpene myrcene – are in high demand. These varietals evolved in colder climates, leading them to grow as short, compact bushes with broad leaves. Popular among growers for their short flowering cycles and sturdy nature. Our award winning collection is famous for its exceptionally large, frosty purple buds and delectable flavor.
SUPER STRAINS SEEDS
When you consider the badge of respect and honor to rightfully claim yourself as (co) creator of so many astounding weed varieties besides the Amnesia strain, it is very much our focus to retain our industry-leading status as genetic specialist. These days, our attention to detail remains as sharp as ever, with particular efforts paid to understanding the genetic stability, heritability and lineage of our strains. This unparalleled level of understanding of how plants work has been an integral part of building our company and loyal customer base.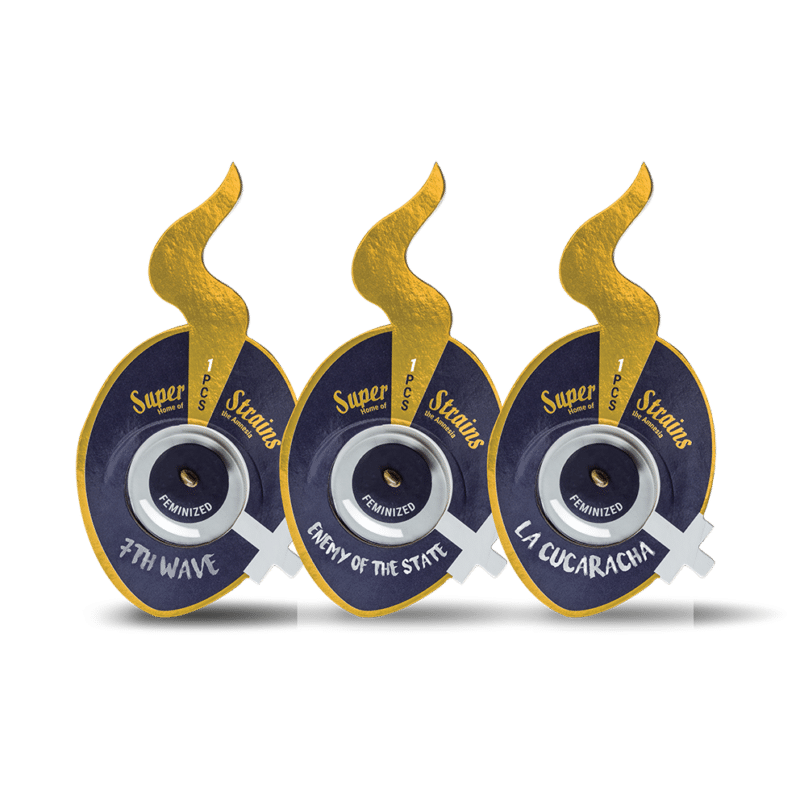 INDICA COLLECTION PACK
Can't decide which strains you want to grow?
Let Super Strains make the selection easy for you with our Indica Collection. In each pack you will find three of our finest feminized and award winning Indica strains. As these three also represent our most popular Indica seeds, we felt it necessary to offer them together in this special feminized collection pack. A unique combination that showcases the very best bunker-bustering strains in our portfolio – offered in a well-priced bundle.
3-pack €27,50
Shop now
Receive our latest offers, deals and tips!