CBD SEEDS
SUPER STRAINS – CBD Selections
Super Strains Seeds offers a top quality selection of feminized CBD seeds – ready to support the startup of any healthy CBD garden. We take great pains in selecting only top-quality strains for our product portfolio. All our (world) exclusive CBD seeds are lab-tested to guarantee quality genetics, accurate information and viability. Our 30 year track record of satisfied customers speaks for itself.
Shop cbd seeds Now
FEMINIZED CBD SEEDS
A quality selection of high-CBD seeds
The demand for high CBD strains has increased greatly in the last few years, which has motivated us to further develop our own portfolio of CBD strains. These incredible CBD-rich strains have very low THC content, meaning they offer no psychedelic effect. If you're shopping for high-quality CBD seeds – buy at a reputable vendor like Super Strain Seeds. Our Super Strains CBD seeds will produce CBD levels between 14-22% while the THC content of our strains varies between 0.2-2%.
SUPER STRAINS SEEDS
Supporting the legacy of more than 30 years of original Dutch Genetics. Super Strains Seeds guiding principle behind such a long and illustrious career with cannabis has been a simple one for our seed company – to select only the very finest Indica and Sativa strains from our gene pools and release only strains guaranteed to delight our connoisseur consumers. Super Strains isn't to be compared with popular seedbanks; our portfolio of 20 seed strains are only produced and a 100% exclusive to us.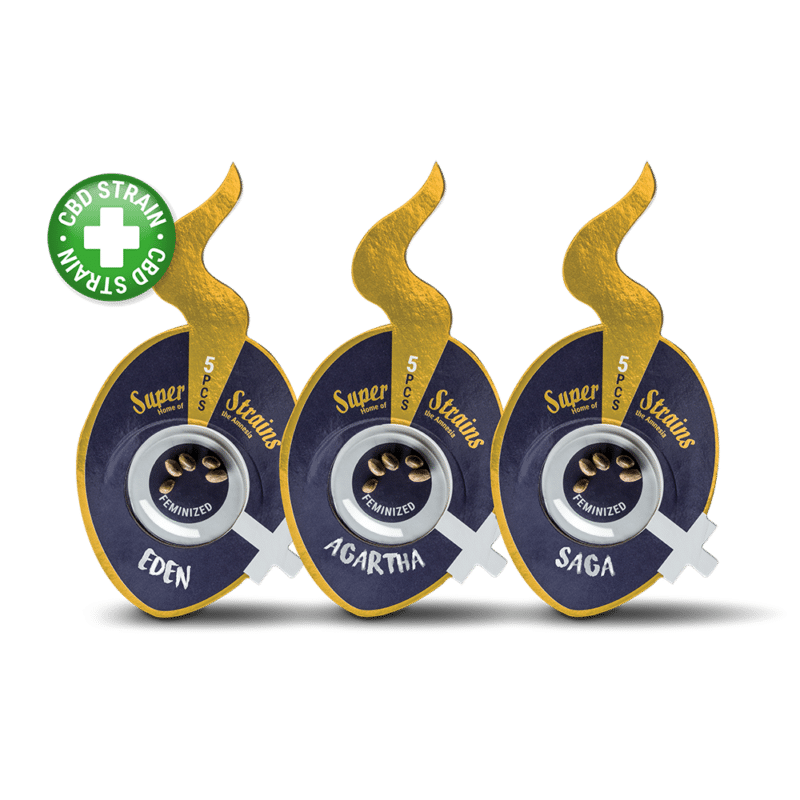 CBD COLLECTION PACK
Looking to add some CBD variety to your garden?
It takes a lot to earn premium status, but the strains in the CBD collection are worthy of that honor. All 3 strains are widely used, both commercial and home growers have discovered the amazing qualities Super Strains CBD strains have to offer. All 3 strains included in our CBD collection pack have a CBD content higher than 14% and their THC content varies between 0,2% and 2%.
3-PACK €30
Shop now
Receive our latest offers, deals and tips!