STORAGE SOLUTIONS
SUPER PUFF – Storage selection
An excellent stash jar covers the basics of keeping your goodies dry, locking in its scent and protecting it from light to extend its freshness as long as possible. Stash jars can preserve your herbs for up to two years. Super Puff offers a selection of premium metal, glass or wooden storage solutions. You can pick one that best fits your personal taste and habits.
shop all storage
SUPER PUFF – STORAGE SOLUTIONS
Airtight storage containers for at home or on the go
If you've ever watched your herbs turn from bright green to dull brown, your produce is losing its potent effects as it is suffering from exposure to oxygen, humidity and light. If you are a fresh flower connoisseur and ruining good herbs bothers you, so upgrade to a stash jar! Keep your valuable safe, secure and out of sight. To keep your herbs fresh and potent, you'll need to store it in an airtight container that resists humidity and temperature changes. Keep it in a cool and dry place, around 20 C / 70 F. Aim to keep the environment in a humidity range of 55% and 65%.
SUPER PUFF – SMOKING ESSENTIALS
Are you looking for the perfect grinder for a smooth toke, an unbleached rolling paper to enhance your smoking experience or an eco-friendly stash box to store your green goodies? Super Puff's growing assortment of smoking essentials and accessories has you covered – offering a growing collection of grinders, storage solutions and smoking gadgets. Quality smoking accessories and paraphernalia are what makes the difference between an ordinary and an extraordinary smoking session.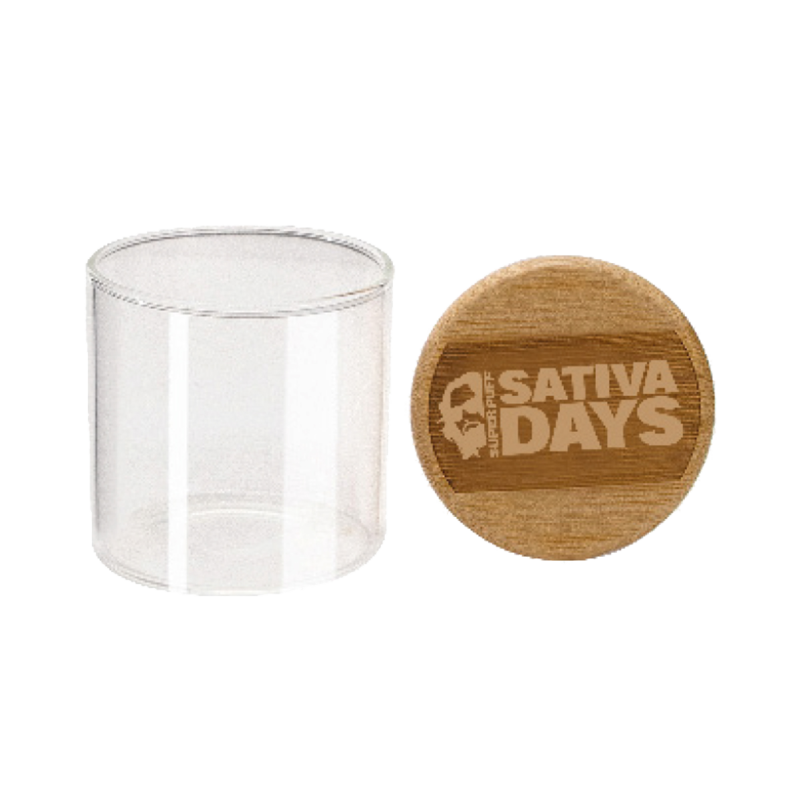 GLASS STASH JARS
Made with borosilicate glass and natural bamboo
If you love glass and the bamboo this stash jar is for you. There's not much say about this jar other than how cute it is. It's airtight, super classy, and totally not meant to be a stash jar. However, it is affordable and works just perfectly for storing your favorite herbs – so why not get creative? It's minimalistic yet stylish design make it a perfect addition to any collection. Most importantly – it will keep your herbs super fresh. Being able to see your produce is an extra bonus!
Stash jar €9,95
Shop now
Receive our latest offers, deals and tips!